19

Nov
Grieving Forward Holiday Plan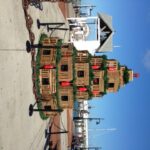 1.  You don't need to accept every invitation.
2.  It's okay not to decorate as much or not to decorate at all.  Unless you have children who expect and need things not to change much.
3.  You don't have to do everything the same.  This is difficult to do when everything has changed.
4.  You need to eat healthy and hydrate with water.  Don't forget to feed your children.
5.  Find ways to honor the memory of your loved one.  For example, light a candle or share memories around the dinner table.
Take a minute to share with us what you are doing this holiday season.  Or, share what you are not going to do…